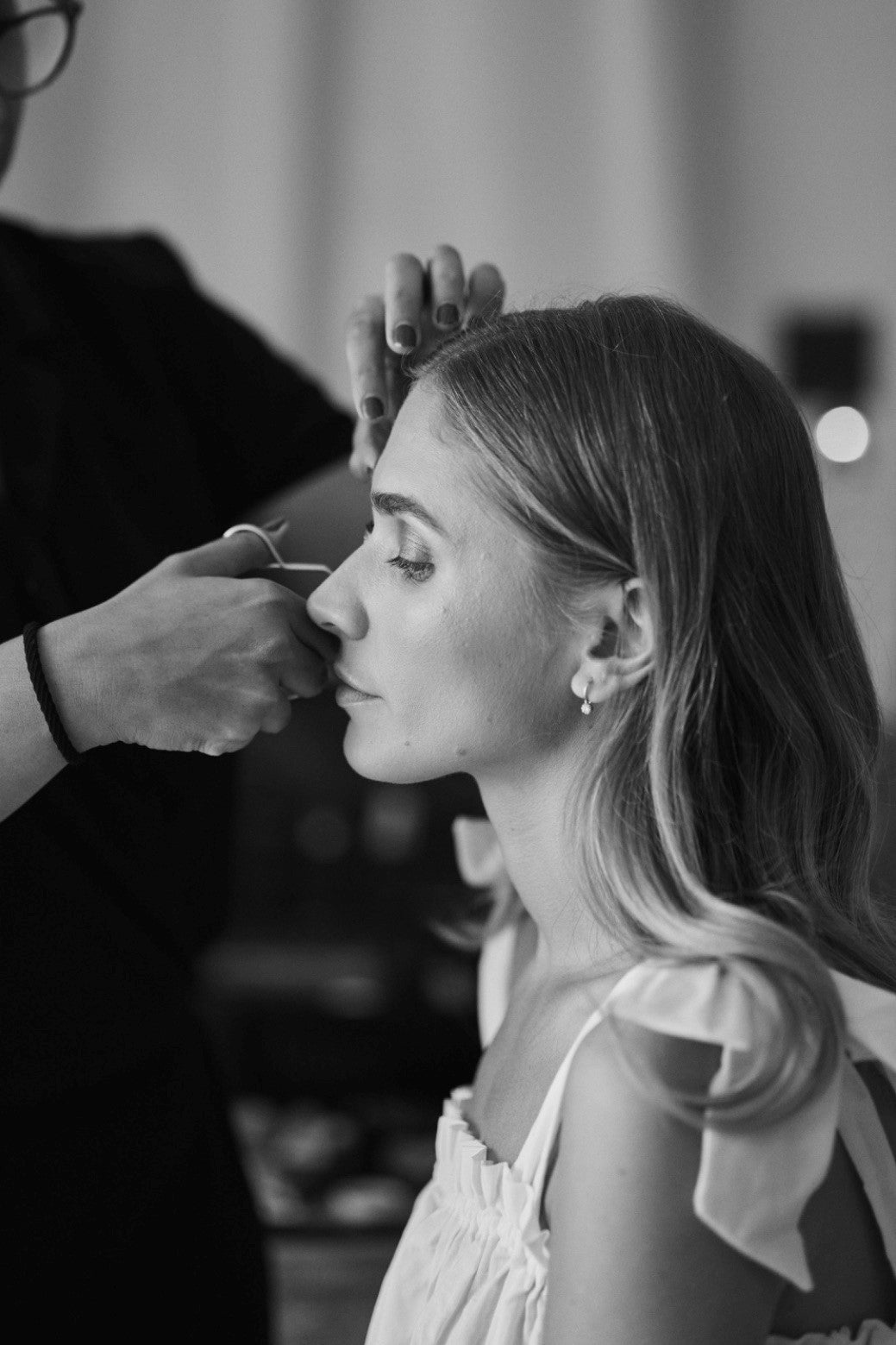 Weddings are a lot of work, a lot of fun, but there is a lot of stress that comes with planning what is (probably) the biggest (and best!) party you'll ever throw. From finding the 'it's perfect' dress and creating a table plan that doesn't cause World War 3 to choosing a venue that's just right, there's a whole lot of to-do lists involved with wedding planning.
Now, admittedly, skincare is probably going to be less of a priority than, say, deciding your food options, however whether you're a beauty junkie or low-maintenance honey you'll want to look your best. There's a reason bridal glow is one of the most searched for skincare terms.
Given that your wedding to-do list is longer than your veil we're here to simplify your wedding beauty admin with some straightforward skincare advice from one London's most trusted facialists, Katharine Mackenzie Paterson. From which treatments to consider to the products to introduce - and when, we've got your countdown to saying 'I do' with your best skin yet, sorted.
SET SKINCARE GOALS
"I see so many brides," says Mackenzie Paterson, "who all have different skincare needs and expectations of what they want to achieve, skincare wise, for their wedding, but really every bride just wants to look the best version of themselves" Sadly, there is no skincare silver bullet for achieving a universal 'bridal glow', however, managing your expectations and setting realistic goals is a good place to start, notes Mackenzie Paterson. By this she means, if you have acne that you'd like to be more manageable by the time you walk down the aisle then make this your priority, if you just want to start indulging in skincare to give yourself a bit of 'me time' (a common request for brides-to be according to Makenzie Paterson) then enjoy the process but don't expect complexion miracles.
Did you know that with every purchase of The Ultimate Plan, we offer a complimentary online skincare consultation, so we can discuss how to reach your skincare goals through the optimal use of our products.
START TREATMENTS EARLY
If you're going to go down the tweakment or aesthetics route, Mackenzie Paterson recommends booking in for your initial consultation as soon as you can. Her preference is at least 18 months before the day itself to really allow your skin to adapt and for visible differences to show. If you're thinking of getting facials, she says that you should have your first one 3 months minimum pre-wedding, to give enough time for changes to happen and for any reactions to settle.
SIMPLIFY YOUR AT-HOME SKINCARE ROUTINE
The golden rule of reaching radiance in time for saying your vows? Don't mix things up too much, says Mackenzie Paterson. "A lot of people overcomplicate their skincare routines," she notes, "your skin needs time to adjust, plus you never know how your skin will respond to a new treatment or product." She recommends sticking to a consistent skincare routine for a solid three months prior to your wedding day, be diligent and you will see results.
Have a really good cleanser. "A lot of how you clean your skin depends on how your skin behaves," says Mackenzie Paterson.
Add in an antioxidant. These are ingredients such as Vitamin C, Vitamin E and niacinamide which work by reversing, and preventing oxidative skin damage caused by free radicals.
Step up your serum game. Again, antioxidants are key here, says Mackenzie Paterson, "choose Vitamin C to brighten skin and boost collagen production, or something with niacinamide in it if you're looking to even out your skin texture." Our antioxidant rich serum, The Super Hydrator, is a game-changer.
Hydrate! Hydrate! Hydrate! Now is the time to get moisturiser that's packed with hyaluronic acid, aka the hydrating hero.
SPF. Every day. Factor 30 or above please, this will help to prevent pigmentation forming.
Make masking a habit. If you're prone to dry skin, treat yourself to a hydrating mask once a week to restore lost moisture and keep skin bouncy, and bright. Check out our weekly mask The Revitaliser.
Introduce retinol. This is optional but if fine lines and wrinkles are a concern this is a step you might want to consider. "The sooner you can get retinol onto your skin the better," says Mackenzie Paterson, "the longer you use it for the better your skin will be. Her retinol timeline? It takes about three months to really see a difference and you want to give yourself three months for your skin to adjust, so 6 months is the minimum time frame to get retinol into your routine.
THE DAY OF THE WEDDING
Simplicity is key. Mackenzie Paterson says that by now your skin should be in a place that you want it to be, "have a nice shower, wash your hair and then just splash your face with cold water, applying a light hydrating mask, some eye patches and then leave the rest to your makeup artist."
DON'T OVER STIMULATE YOUR SKIN
If you are getting any treatments, stick to seeing the same person, recommends Mackenzie Paterson. "Don't go and get a laser one week and the microneedling the next, if you're seeing a specialist put your trust in them and they will recommend what you need."
LEARN YOUR SKINCARE WEAK SPOTS
"There's only so much good skincare can do," says Mackenzie Paterson, "if you know eating lots of chocolate causes you to break out then avoid it in the lead up to the wedding." Figure out what stresses your skin out and adapt your lifestyle accordingly.
For results driven face and body treatments, contact Katharine Mackenzie Paterson to visit her Mayfair skincare destination.