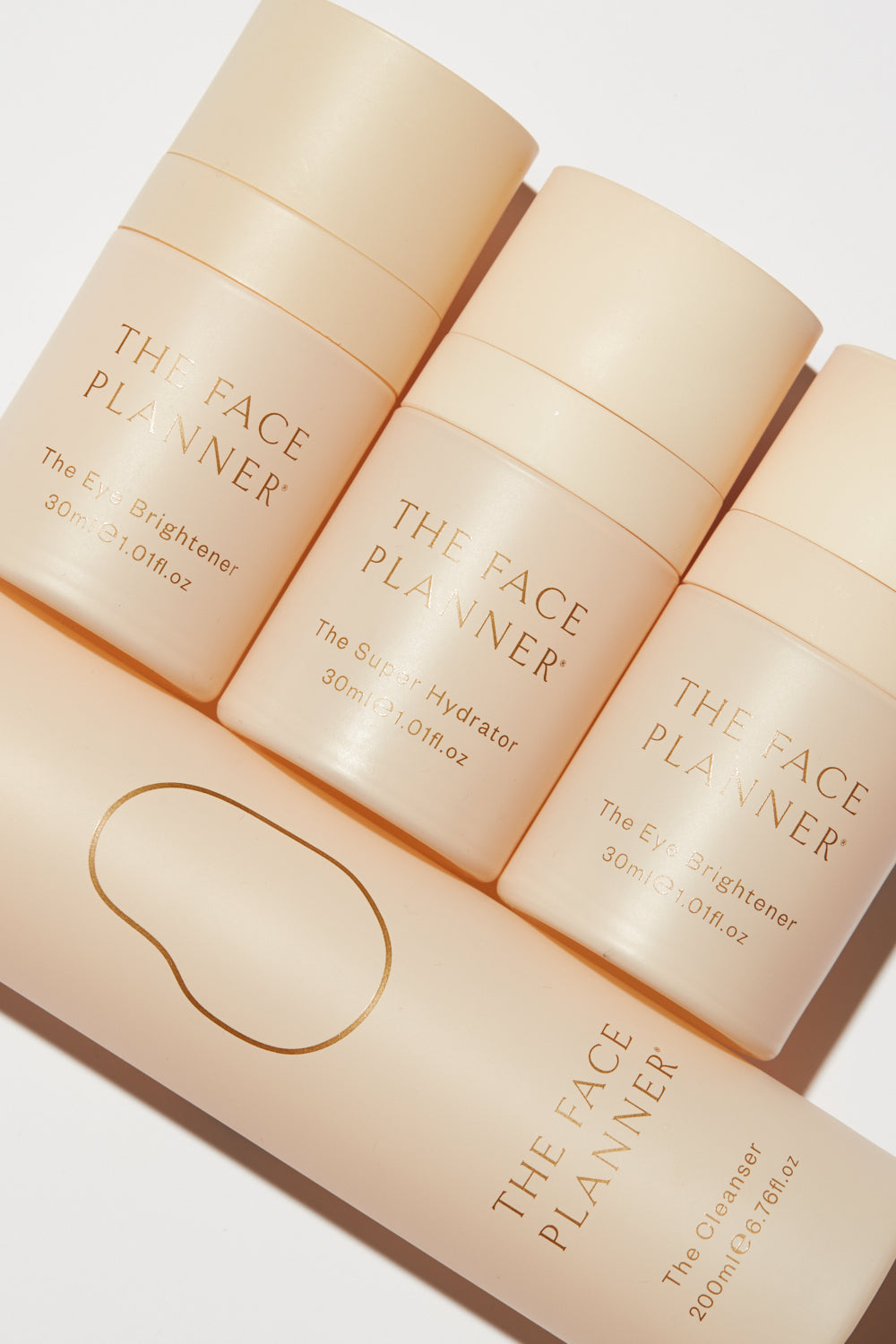 The world of skincare has become a minefield to navigate, from 14-step Korean routines to the latest and greatest wonder ingredients, it can not only be confusing trying to figure out what's best to use on your complexion but also, and crucially, in what order it should be applied. 
Learning what to use and when will make your skincare work harder for you and ultimately help you reach your skincare goals quicker. Products come in different consistencies, so the general rule of thumb is to apply from thinnest to thickest. In simple terms, this is so the larger molecules found in thicker formulas don't block the smaller in lighter products and prevent them absorbing into the skin.
For best results try to let each layer sink into the skin by leaving a minute or two between each step. This is easily done, when you incorporate the rest of your AM or PM activities in-between. For example, cleanse, then shower, tone then make coffee, apply serum, style your hair, and so on – you get the gist. 
Follow our guide to applying your products in the right order morning and night and you'll master the art of skincare layering in no time…
STEP ONE: CLEANSE
The foundation of any great skincare routine is cleansing the skin of excess oil, dirt and impurities to the clear way for the skincare goodness you're going to apply on top. Cleansers are the unsung hero of skincare, as it allows your skincare to absorb better into the skin.
In the AM
While cleansing the skin is often just thought of as something you do in the evenings, it is also important to prime the complexion before applying the rest of your routine in the morning.
If you have oily or combination skin: This is especially important for you as you'll clear the skin of excess sebum that builds-up overnight
If you have normal, dry or sensitive skin: Our cleanser is gentle enough for all to use twice a day to ensure sweat and bacteria are also washed away. 
In the PM
Whether you wear make-up or not cleansing the skin in the evenings should never be missed, as your skin still picks up dirt, grime and impurities during the day that can lead to pore-clogging and inflammation. 
If you do wear make-up opt for a double-cleanse. You don't need two separate cleansers to do this, our gel cleanser removes all traces of make-up on the first go, while the second gets deeper into the pores for a thorough clean. Use warm water to rinse, and never hot water that strips the skin of its natural oils. 
STEP TWO: TONE
Both AM and PM
The job of a toner is to balance the skin's pH level after cleansing, as it can alter the acidity of your skin. This disruption can lead to your skin going into overdrive and overproducing oil for some, or lead to dryness and irritation for others. Our toner goes the extra beauty mile gently exfoliating the skin, sloughing away dead skin cells with glycolic and lactic acid prepping the skin even further 
If you have oily or acne-prone skin: This step is crucial for keeping your oil production well balanced -  never skip it after cleansing if you want to stay shine-free.
If you have dry or sensitive skin: Our toner also soothes the skin with witch hazel and strengthens the skin barrier with niacinamide, so your skin type will also feel the benefits.
STEP THREE: SERUM 
Your skin is now ready for targeted skincare, whether you're looking for extra hydration, skin-brightening or combating the signs of ageing using a serum is the way to go. Packed with a concentrated dose of powerful actives (hence why they're often the priciest product), made up of smaller molecules and, therefore, lighter textures they can penetrate deeper into the skin.
In the AM
Look for antioxidant formulations, like the superstar of skincare vitamin C. It protects the skin from free radicals that break down the collagen in our skin leading to signs of ageing like pigmentation, loss of firmness and lines and wrinkles. Naturally, our serum is infused with the powerful active.
In the PM 
Your skin goes into repair mode overnight, so giving it a helping hand regenerate with a potent serum is essential if you're looking to target premature signs of ageing. 
If you've got dry skin: Serums with hyaluronic acid, like ours, will boost hydration levels.
If you've got fine lines and wrinkles: Vitamin C also has skin-correcting abilities, stimulating collagen production plumping the skin and reducing fine lines. For serious rejuvenating results, you may want to add a retinol (or retinoid) serum at this step instead. 
If you've got pigmentation: Looking to improve uneven skin tone and brighten age spots, you should also turn to vitamin C. 
STEP FOUR: EYE CREAM 
Both AM and PM
You may be tempted to skip this product altogether and just use your regular moisturiser up to the lash line, but don't. The reason you need a dedicated eye cream is that the area has skin 10 times thinner than the rest of the face making it more fragile and sensitive, so other products will be too rich or strong to use on the delicate area. 
If you have puffy eyes: Less is more when it comes to application. Don't use more than a pea-sized amount or you risk irritating the eyes and making puffiness look worse. Try leaving it in the fridge, for a soothing cooling effect – perfect for tired eyes. 
If you have fine lines: Dab eye cream on using your ring finger, as it's your weakest finger you'll apply less pressure avoiding tugging and creasing the skin further. 
STEP FIVE: MOISTURISER
Lastly, you're ready to seal everything in with your moisturiser. Locking in the actives from your serum requires a first-class cream containing humectants that attract water and keep it in the skin, as well as ceramides that soothe and reduce the loss of water. Ours does both!
If you have oily or acne-prone skin: Don't shy away from this step, our gel-cream moisturiser is beautifully lightweight so suitable for your skin type too. 
In the AM
Using gentle upward strokes is the best way to apply your moisturiser. Sweeping your hands up to defy gravity and working outwards. Don't forget your neck, always start at your décolletage and work upwards. Defy signs of ageing by layering SPF on top, yes even on cloudy days. 
In the PM
You don't always need a separate night cream. Our moisturiser is safe to use in your evening routine too as it doesn't contain any retinoids or SPF. 
If you have dry skin: Finding your skin drinks up the first layer? Don't be afraid to apply another or seal it further with a face oil on top. 
If you have oily or acne-prone skin: It may be tempting to skip this step for fear of it making oiliness worse. Trust us, it won't, and your skin type needs hydration too. 
WHEN TO APPLY A MASK
Face masks not only boost your skincare routine, but force you to put your feet up for a moment of calm while it works its magic. Clarifying masks (like ours) draw out impurities from the skin keeping congestion at bay as well as reducing inflammation. Use once a week after cleansing and toning, and before your serum and moisturiser.
If you have oily or acne-prone skin: You may benefit from using a clay mask twice a week.
If you have dry skin: Our mask is hydrating too, so won't cause any drying-out of the skin.