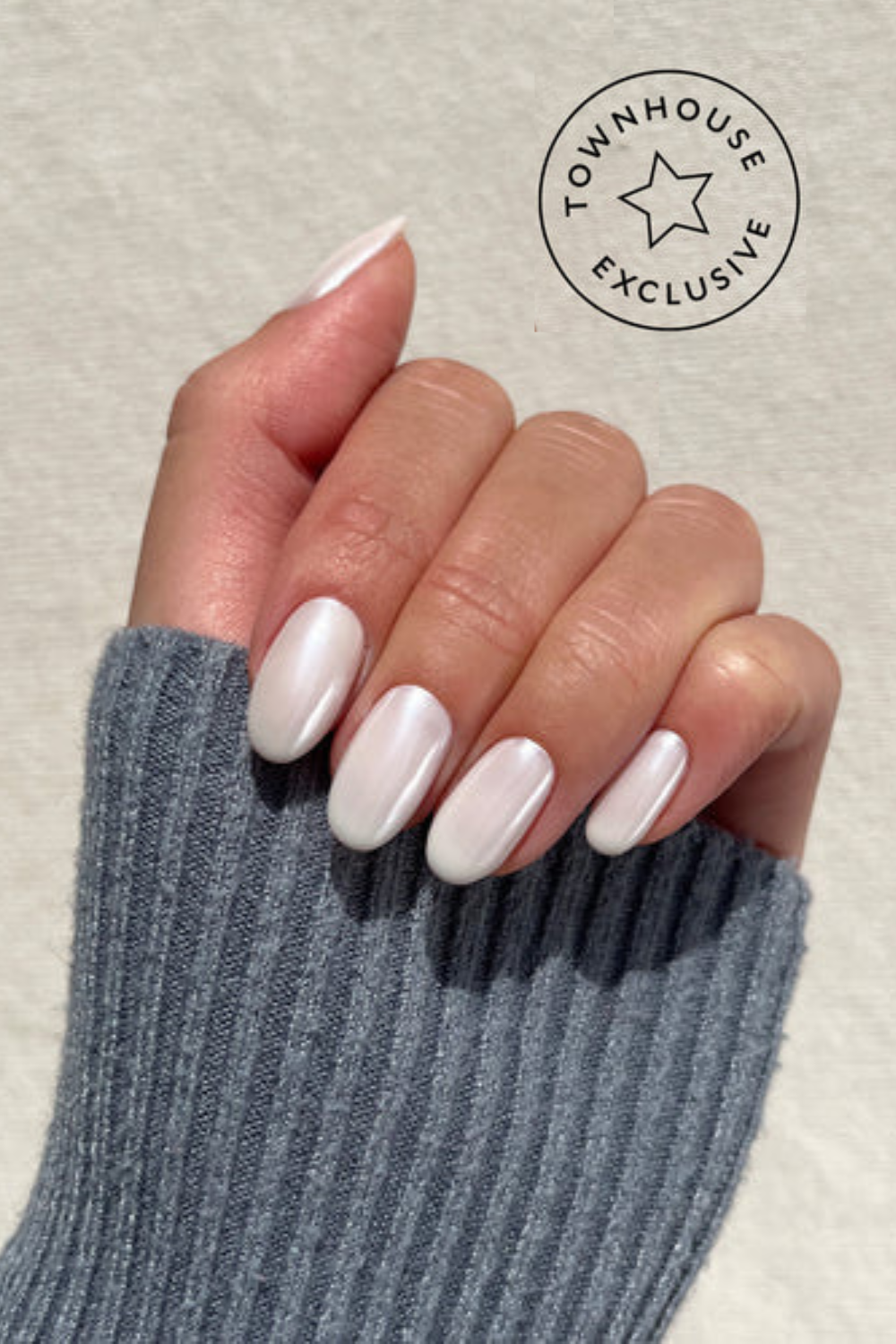 Classic French! Grown up glitter! Something blue! Your wedding day nails are a chance to inject a little bit of sass and spice into your finished look and while your nails probably aren't the main focus of the day, you don't want to look back at your photos and think 'why but why did I go for neon green' when you're usually a nude kind of gal. Don't worry, help is at hand (sorry).
As we are so thrilled to support the opening of the new Townhouse salon in London, we sat down with Juanita Huber-Millet, Founder and Creative Director of Townhouse nail salons to chat about finding your perfect colour match, how to deal with pre-aisle nail chips and making sure your mani lasts until you've returned from the honeymoon. 
If you're not normally a mani kind of girl but want to get your nails done for your big day what would you recommend?
"Definitely the classic French manicure. It's timeless, elegant, and beautifully complements every style of wedding dress! If you're really mani shy then another popular bridal look is sheer, natural nails - this understated look is perfect with a neutral shade of pink, beige or milky white."
What about for the brides who want to jazz things up?
"A chrome finish or dainty nail art accents are a fun way to add a touch of glamour or some individuality to your bridal look."
What are you pinning to your bridal nail Pinterest board? 
"This season is all about understated designs and minimalist nail art, like a reverse French or delicate floral. Perfect for brides who want to add a subtle touch of personality to their nails."
Are there any nail colour shades that you're loving at the moment? 
"One of my favourite shades for brides at the moment is a combination of 'Love is in the Bare' and 'Bubble Bath' by OPI. Layering these two stunning shades creates the most beautiful bridal look!"
Most brides have a makeup trial, is there such a thing as a nail trial? 
"To ensure that you're happy with the colour, shape, and style, I'd always recommend booking a nail trial a few weeks in advance. At Townhouse our nail technicians can guide you through our extensive collection of shades and nail art designs, helping you select the perfect look for your big day."
My nails are so weak and brittle, what can I do to make my nails stronger? 
"My number one tip for keeping nails healthy and strong?  Always wear gloves when doing any household chores! Strong chemicals can damage the nails and cause them to become very weak. A poor diet lacking in nutrients can also lead to weakened nails and over buffing/filing. 
Daily use of cuticle oil and hand cream will help promote healthy nails. I love using our Townhouse cuticle oil and La Crème Main by Chanel - I always keep a bottle of hand cream in my bag and regularly apply throughout the day!"
How can I grow my nails before my wedding? 
"If you're looking to grow your nails for your wedding, a fantastic option to consider is BIAB (Builder In A Bottle) by The Gel Bottle. This super gel overlay is perfect for strengthening and growing out your natural nails. It provides a long-lasting, high-gloss finish that looks and feels natural."
What's your number one piece of advice for bridal nails? 
"Don't leave it until the last minute! Book a nail appointment well in advance to avoid any last-minute stress. Also, avoid using new products or experimenting with unfamiliar nail shapes or lengths just before your wedding - if you fancy something new, always try it before!"
So, when should I book in for my pre-wedding mani? 
"I would recommend booking your appointment 1-2 days before the wedding, this will ensure your manicure is fresh for the big day. Remember, moisturise, moisturise, moisturise ahead of the big day!"
Help! I've chipped my nail and I'm about to walk down the aisle…
"Oh dear, chipping a nail on your wedding day can certainly be a stressful situation! To prevent this from happening, it's best to opt for a stronger nail treatment such as gel polish or Super Gel Overlay (BIAB). 
However, if you do end up with a chipped nail, there are a few options to fix it:
If you have the time and access to a professional nail salon, I'd highly recommend popping in to have the nail redone by a trained technician.

If you're unable to visit a nearby salon or are too tight for time, you can try to fix the chip yourself using a clear topcoat or nail glue. Apply a small amount of the product to the chipped area, then smooth it out using a toothpick or nail file. Be sure to let it dry completely before applying any additional polish and take your time to avoid causing further damage.

If all else fails, try to stay positive and remember that a small imperfection won't ruin your special day. Focus on enjoying the moment and creating wonderful memories!
Crisis, averted. Vows exchanged, cake cut, now off to the Maldives I go. Any tips for making sure my mani withstands all the sun, sea and sauvignon I'm planning on indulging in on my honeymoon? 
"BIAB (Builder In A Bottle) by The Gel Bottle is a popular option for brides-to-be, as it offers flawless, long-lasting nails that can last up to three weeks! This makes it perfect and convenient for brides who are heading straight on to their honeymoon after the wedding."